Aquafresh Big Teeth Mouthwash (6-8 years)
Child-friendly fresh mint flavour
All-round protection for their growing teeth
Aquafresh Big Teeth Mouthwash gives added protection* for the developing enamel on your kid's new adult teeth. The enamel on their new permanent teeth is softer and more vulnerable to decay than that on fully mature adult teeth.


Used after brushing, this fluoride mouthwash can get into every area of their mouth, to help strengthen their teeth and give you greater peace of mind.
Fluoride mouthwash helps protect teeth from sugar acid attacks
Help clean places where brushing might have missed
Alcohol free
*compared to brushing alone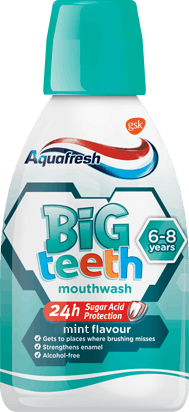 Also available in child
friendly fruit flavour.