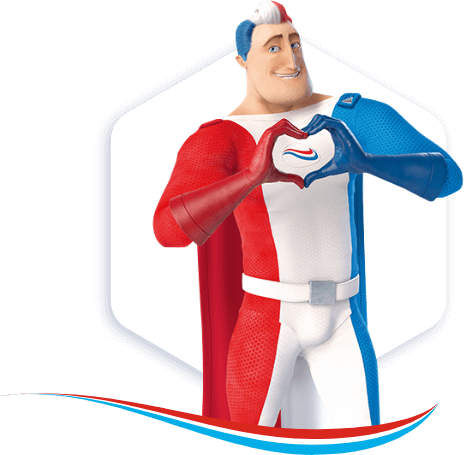 How we earned our stripes
You might recognise the three distinct Aquafresh stripes. But you may not know that it was the first striped toothpaste to launch in the oral hygiene market. At first there were just blue and white stripes – one to show it fights tooth decay and the other to show it helps freshens breath. Then we added our signature red stripe when we added helping to keep gums healthy to our triple protection promise.
Stripes weren't our only claim to fame, as Aquafresh was also one of the first brands to offer 'freshness' as a benefit. We saw that having both fresh breath and a good-tasting toothpaste were important to families. And with the help of Captain Aquafresh, we're still proud to bring reliable freshness to mouths across the world.

Our Triple Protection Promise

Fresh breath
Aquafresh has a range of minty, whitening toothpastes and great flavours that all aim to give you a truly fresh feeling.

Strong teeth
Active fluoride helps to strengthen tooth enamel and protect against sugar acid attacks, so you can feel confident about your smile.


Healthy gums
All our toothpastes help remove plaque with twice-daily brushing, helping to support healthy gums.
With the help of his 'nurdles' Lily, Billy and Milky, the Captain is here to bring super toothcare to the nation.